We're pretty handy at Underdog's Triumph. By building things yourself you can still end up with a nice finished project but at a much lower cost.
Below are some of the things we've tried our hand at making. We'll be adding more soon!
If you're feeling crafty, feel free to try one of the projects and let us know how it goes. They make great 4-h projects, and we always appreciate any spares you have!
---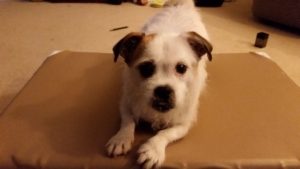 PVC Elevated Dogs Beds = $30
These low cost pvc elevated dog beds work great for keeping dogs cool during the summer months. As they sit off the ground they also help keep creepy crawlies off your dog and allow the cool breeze to flow underneath them. If you use vinyl or outdoor upholstery fabric, which is what we recommend, you can just hose them down outside if they get dirty.
Fleece Dog Toys – COMING SOON!